With great sadness, the community of Cameroonian scholars, students and artists and curators, learnt of the demise of Dr Fongot Kini Yen-Kinni on Monday 4, March 2019. He was widely recognized for his exceptional intellect as well as passion and dedication as a scholar and researcher. Even more, few people talk about Kini without immediately mentioning his commitment to, compassion for and generosity towards his students and colleagues across different institutions of higher learning in Anglophone Cameroon and in the art world across the country where he worked. A true gentleman scholar, Kini was a rare breed of human. He remained the eternal student and dreamer of a peaceful world. A versatile and multidisciplinary social scientist and humanities scholar, Kini held more than eight higher education degrees (including two doctoral degrees in anthropology and political science and masters in the fields of philosophy, theology, law and economic history) obtained, first among the Jesuits in Rome (including the Pontifical Urbaniana University of Rome & International University of Social Sciences Pro Deo, Rome),  then in French universities (including University of Paris V Rene Descartes, Sorbonne), all over a total of some twenty-six years  spent outside Cameroon.
With such rootedness in a wide array of human sciences and his affable personality, Kini constantly extolled the virtues of education, especially liberal arts education. He believed that such education was crucial to fostering a culture of peace, tolerance, and understanding among humans from different cultures that inhabit our tumultuous and fragile world. As illustration of this in his own life, Kini was a polyglot. He spoke French, Italian, German and English, owing to his many years of education in Europe. But he was also a very proud speaker of his mother-tongue, Mùngáàkà, and his father-tongue, "Tángíkóm", in addition to Pidgin English, the lingua franca of Anglophone West Africa. Even more impressive, Kini was also known as a poet, a musician, a recognized creative artist and ethnographic film producer. He first introduced me to the poetry of Sankie Maimo, the illustrious though now forgotten interlocutor and peer of another towering figure of Anglophone Cameroonian scholarship, Bernard N. Fonlon.  A designer and tailor, Kini proudly adorned and showcased his own unique outfits almost exclusively. This was the only "almost complete" human I had ever met. In the sixteen years I knew him, I never saw him in anything other than in his custom-made, self-designed outfits and this whether in Buea, Kumba, Bamenda or the numerous occasions he stopped to spend some time with me in Helsinki. These self-designed and self-made outfits made him so distinctive and almost unique. During our initial meeting with him at the University of Buea in the early 2000s as our lecturer in anthropology, some of us called him "Wes Madiko". This was a reference to another Cameroonian musical icon who dressed in a similarly unique style.
An original thinker and prolific author, he had a wide-ranging intellectual and ethnographic curiosity, grounded within an approach that spanned anthropology, law and politics, even when he would be studying the cultural theory of numbers and counting among the people of the Cameroon Grassfields. Central to his intellectual orientation was a commitment to confronting power's effect in creating and naturalising inequalities through different cultural processes. As a result, Kini never shied away from controversial subjects and this despite the highly repressive regime of Paul Biya. For instance he published on the Pan-Africanist challenges of this century (2015) as well as on the deeply emotional and highly debated dispute that opposed Cameroon to Nigeria over the Bakassi Peninsula (2013). In doing so, he documented the misery and struggles of the Bakassi people even as both Nigeria and Cameroon struggled to claim their territory and resources in the name of international law, first by resorting to war, and then to the adjudicatory process of the International Court of Justice (ICJ).
For all his intellectual and scholarly interest, he was also widely known as an ambitious, tireless administrator and a great achiever who pursued multiple projects in higher education and the popularisation of conservation, the arts and heritage management in Cameroon. Not long after he returned to Cameroon in the early 1990s he founded the Afhemi Museum, then the only private museum in Cameroon and, despite some difficulties in the mid-2000s, has been successfully revamped. It is now one of the largest private art and anthropological museums in Africa, boasting ownership of over two thousand African art objects and artefacts.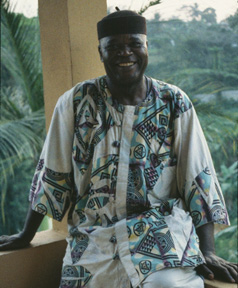 At the time of his death Dr Kini was the Dean of the Faculty of Law and Deputy Vice Chancellor in charge of Research and Cooperation, at the Bamenda University of Science and Technology – BUST, located in the city of Bamenda. The area has been ravaged by the assault of Cameroon's military over Anglophone separatist claims in the North West and South West Regions of the country for almost three years now. Kini stayed and continued to work in the service of young Anglophone Cameroonians whose educational projects he deemed vital to a future project of peace. Prior to BUST he served as Dean for the Pan African Institute for Development in West Africa (PAID-WA) in Buea, regional and African Union (AU)-owned and operated higher education institution to train development experts. He had also taught at the University of Buea as well as many institutions abroad, including in Finland where he had held visiting professorships at the University of Applied Sciences in Mikkeli and Aalto University School of Economics and Business of Helsinki since 2004.
In these last few months Dr Kini's last project for higher education training in Cameroon was to create a liberal arts college in the city of Kumba, the Afhemi University. In a highly complicated political environment, particularly given the current political climate over Anglophone separatist claims, Kini's tact and diplomacy helped him to obtain government approval for this college. In early January he wrote an email to share the great news as well as to generously invite me to be a partner in this project. Although I declined, in his final words to me in an email on February 8th 2019, he invited me to re-consider and think about what the project could represent for the Anglophone youth.
I will sorely miss his friendship and mentorship. Like other students and former students of Dr Kini, I will remember his generosity, his enthusiasm for teaching, vast intellectual abilities and his commitment to promoting liberal arts education in Cameroon, particularly Anglophone Cameroon. Farewell to an eternal student whose life is a shiny example, a call to us all to find purpose in our lives through a commitment and dedication to improving the lives of others, especially those that society has placed in our trust.
Rogers Orock
Lecturer in Anthropology, University of the Witwatersrand, Johannesburg,
Graduate of the University of Buea's Sociology and Anthropology Program (Class of 2005).